Founders of companies with billion-dollar revenues normally find it difficult to keep out of the limelight. Yet Masatoshi Kumagai, founder and CEO of GMO Internet (TYO:9449), is nearly invisible. Just Google him in English. Press coverage is more than scant, it's non-existent. Aside from a blurb in a Forbes "Top 50 Millionaires in Japan" and a complimentary mention in a 2005 Newsweek feature on "21st Century CEOs", Kumagai does not appear for longer than a context quote in any other English-language press.
This media reticence suggests a diffidence that is rarely associated with one of Japan's foremost entrepreneurs. Kumagai, a high school dropout whose foresight positioned GMO Internet to be a major player in internet services, is known for his bold, unapologetic style. His love for art runs deep and tolerance for foolishness runs thin. Work consumes him but he DJs at parties for his close friends. Hiroshi Mikitani, founder and CEO of Rakuten (TYO:4755, personally requested him to join the board of the Japan Association of New Economy (JANE), arguably Japan's most powerful lobbying organization. His position there puts him in close conversation with the government, even to the point that he is Facebook friends with Prime Minister Shinzo Abe.
Under his stewardship, GMO Internet, which he founded in 1991, has been on a steady march towards becoming a one-stop-shop – with 82 subsidiaries, six of which are publicly listed – for setting up and running an online business in Japan. Even if a company restricted its relationship with GMO Internet Group only to services having top market share in Japan, it could still select a unique domain name, host its website, keep that website secure, and receive payment for a product or service. If Rakuten, with its ecommerce mall, credit cards, and bank, is an ecosystem for consumers, then GMO Internet Group is an ecosystem for entrepreneurs. This did not happen by accident.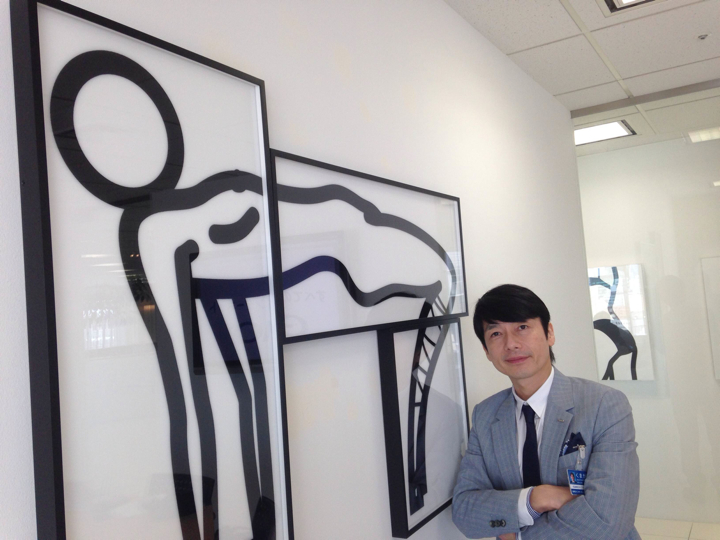 Kumagai has placed some of his favorite pieces of art in the office. This piece, by Julian Opie, is called "This is Shahnoza in 3 parts."
Laying tracks on a digital railroad
Though he dropped out of high school to work in his father's successful entertainment business, Kumagai never stopped learning. An avid reader and history buff, Kumagai thoroughly studied the stories of Japanese zaibatsu, the conglomerates that exerted enormous political and economic control over the country, particularly from the 1870s to 1940s. The standard image of zaibatsu focuses on modern banking institutions Mitsubishi, Sumitomo, and Mitsui. Kumagai, however was particularly attracted to the railroad conglomerates like Tokyu and Seibu.
In addition to building railroads, Tokyu (TYO:9005) and Seibu (TYO:9024) also built large shopping centers at the terminals of the train lines. Tokyu, for instance, built a line that brings people from far outside of Tokyo into a major shopping center of the city. A Tokyu mall is just a minute walk from the station, perfectly convenient for weekend shoppers or weekday workers picking up a couple items on their way home.
The elegant simplicity of this business design was not lost on Kumagai. "I realized that the internet is like the railroad business. Lots of businesses will spring up next to the train tracks," he said, explaining why he changed the company's focus to being a internet service provider in 1995.
The revelation came at a time when the young company was floundering. An early attempt at entering the multimedia business was not moving forward and Kumagai found himself wondering if he could generate enough money to even feed himself. Despite the circumstances, Kumagai followed his instincts and pivoted the company towards internet services. His hunch has paid off. "If we had not found the internet at that time, we likely would have failed as a company." Now, powered by the firm's "engine" of internet infrastructure services (payment, web hosting, cloud storage, etc.), GMO Internet Group's deep variety of services helped the company rake in approximately US$930 million in 2013, a 26 percent increase from the previous year.
Predicting trends, setting standards
Kumagai's foresight enabled him to enter the internet services market in the mid-1990s but that was not the last time his instincts would guide the company. In keeping with the railroad analogy, he anticipated the value of managing the digital equivalent of station names – website domain names.
GMO Internet has quietly cornered the market for domain names in Japan. In 1999, Internet Corporation for Assigned Names and Numbers (ICANN) made it the first commercial registrar for Japan. Like all good bureaucracies, ICANN has moved extremely slowly in creating new domain names. But since 2012, applications for new next-generation, top-level domains (.net, .com, and .gov, for example) became available.
Now, ICANN will allow the use of valuable real estate like .toyko and .yokohama, both of which GMO Internet has acquired the rights to operate. 15 years later, the slow play has paid off and now any business owner, no matter how large or small, will see GMO Internet as a valuable – and nearly inescapable – business partner.
Kumagai does not foresee GMO Internet's engine of infrastructure services slowing down any time soon. By his calculation, the internet is going to be connected to every corner of the world in the coming years. "Right now seven billion people can be connected to the internet. But in the future cats, dogs, horses, cows, lights, buildings will all be connected, they will need servers and domains. That would be tens of billions of things but really there is no limit," he said.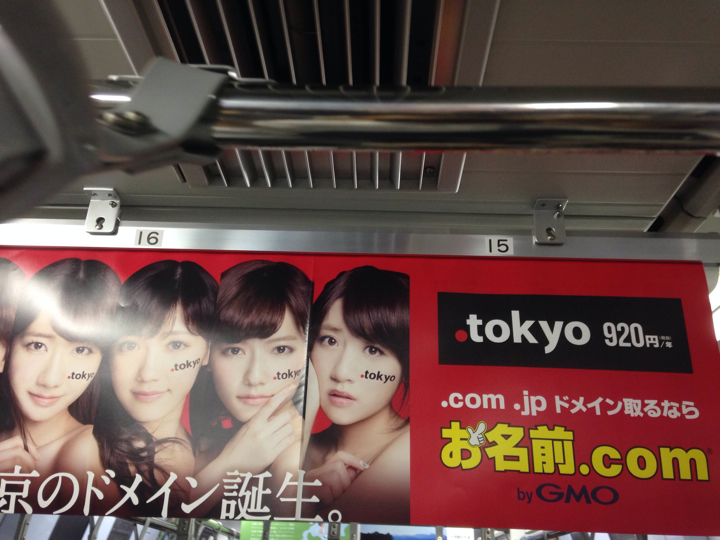 One of many advertisements for the new .tokyo domain name.
Moving beyond Japan
Speaking with Kumagai, one contradiction becomes very apparent. He seems to possess an envious ability to foresee business trends and market opportunities, yet, his empire appears to be firmly rooted in Japan, showing few signs that it is wants to expand.
When asked if his company has plans for the English-speaking market, Kumagai succinctly replied that they are delaying that for the time being. Instead, he wants to focus on non-English speaking countries in Southeast Asia, such as Vietnam. His long-term goal is to generate 50 percent of revenues from outside of Japan.
Kumagai is going to face stiff competition in that pursuit. GMO Internet's payment solution is a highly regarded industry leader in Japan and would seem to be a natural opening for the firm's entrance into Southeast Asia, given the region's need for a sensible payment service. Lurking in plain sight, however, is the Alibaba's Alipay juggernaut, which has already been spotted in Taiwan, Indonesia, and Hong Kong. Alipay has also inked a deal with Rakuten to supply payment support for the ecommerce company's global sales.
See: How a musician-turned entrepreneur built a $400M business
When asked if Alipay is a rival, Kumagai was diplomatic, saying he does not view it as a rival partly because it is still possible that the companies could collaborate in the future. Whatever course those discussions take, GMO Internet is serious about establishing a solid presence overseas. The Japanese market alone is too small.
Kumagai often rails against the limits of Japan. "The Japanese speaking market is 120 million people, the English speaking market is 14 times larger and can pay a corporate tax that is half of [Japan's 35.64 percent] in some places," he said.
GMO Internet needs to move beyond Japan to maintain healthy growth. Its international expansion into the English-speaking world is delayed for now but the firm cannot put it off indefinitely. When the time comes, the firm will have to move quickly and decisively to spread its services in a race against a new host of rivals. Right now, however, Kumagai is carefully studying his options, trying to see what his future holds.
The post Masatoshi Kumagai saw the future and built a one-stop-shop for entrepreneurs appeared first on Tech in Asia.
Masatoshi Kumagai saw the future and built a one-stop-shop for entrepreneurs

-->