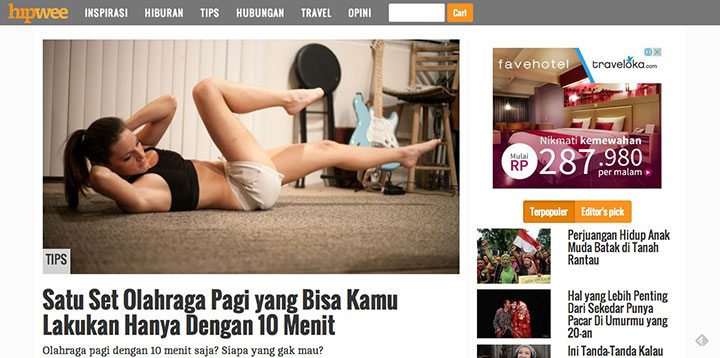 Investing in media sounds sexy nowadays, partly thanks to the recent investment in BuzzFeed. That's inspiring a lot of media startups around the world. In Indonesia, one such newcomer is Hipwee, a social news site that focuses on producing list articles with the country's young urbanites as its main readership.
Hipwee's content covers entertainment, relationships, travel, and inspirational articles. Just like much of BuzzFeed's posts, each article on Hipwee is presented as a list with pictures or GIFs. Occasionally, the Hipwee team also produces deep and serious opinion pieces.
Established in April, the size of Hipwee's audience has skyrocketed. Founder Lauri Lahi, an expat living in Indonesia, says that the site had 3.3 million pageviews and one million unique visits in August, an increase of about 90 percent from the July stats. The team claims that Hipwee's most viral article – this one – has seen over 1,000 social media shares.
Lahi admits that they find inspiration for articles from sites like Lifehack.org and Elite Daily, but emphasizes that they never translate those articles – something that's common practice in non-English markets around the world. Currently Hipwee has nine full-time staffers who produce five to six articles in total every day.
Lahi juggles his time managing Hipwee and his other company, a consulting agency called Indosight that supports foreign companies entering Indonesia.
Lahi explains that a helpful article the team posted to the Indosight site made him realize that content marketing is a powerful tool and that it's important to build a virtual audience. He then wanted to build a blog that caters to a wide audience. After doing some research, he found there wasn't yet an Indonesian online portal covering a wide range of popular topics that targets a young readership between 18 to 30 years old. And so Hipwee was born.
See: Boredom led this ex-reporter to start Southeast Asia's hottest hyperlocal news company
Banking on native ads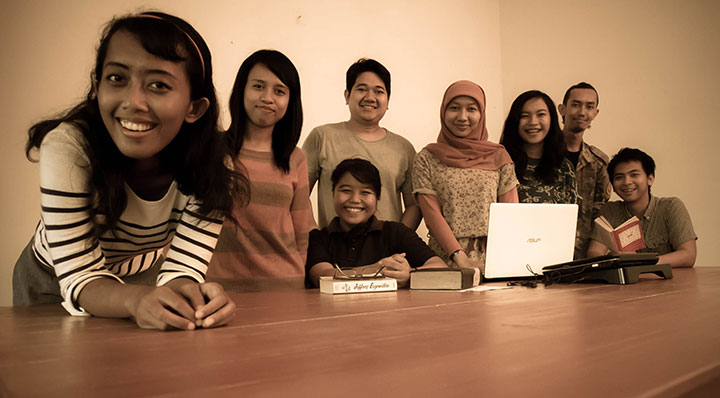 Hipwee team, without founder Lauri Lahi
Hipwee hasn't monetized yet, but it's open to partnering with brands who are looking to engage with Indonesia's young online readers. Just like BuzzFeed, Hipwee offers the chance for brands to do native advertising.
Lahi believes that this focus on native ads – which he prefers to call custom editorial content – is stronger than conventional banner ads. "With this method, our clients will look cooler in the eyes of young people, Hipwee's custom editorial content won't feel like a commercial product," says the founder. Clients also get free advertising from the articles' social media shares.
The team's immediate plan is to increase the article production rate. He aims to grow Hipwee to become one of Indonesia's top 25 online media sites in a year's time.
Another Indonesian site banking on shareable content is Malesbanget, which is run by MBDC Media. That site also believes in the native advertising model. The startup recently received funding from 500 Startups and Rebright Partners.
---
This article is also available in Indonesian.
Indonesian startup rises to the challenge of building a local Buzzfeed

-->